Indeed SMSP goes green, not the nickel's green but that of green energy.
SMSP installed a photovoltaic solar production unit on the roof of its downtown building, comprising 100 panels with an annual production capacity of 49 kWt.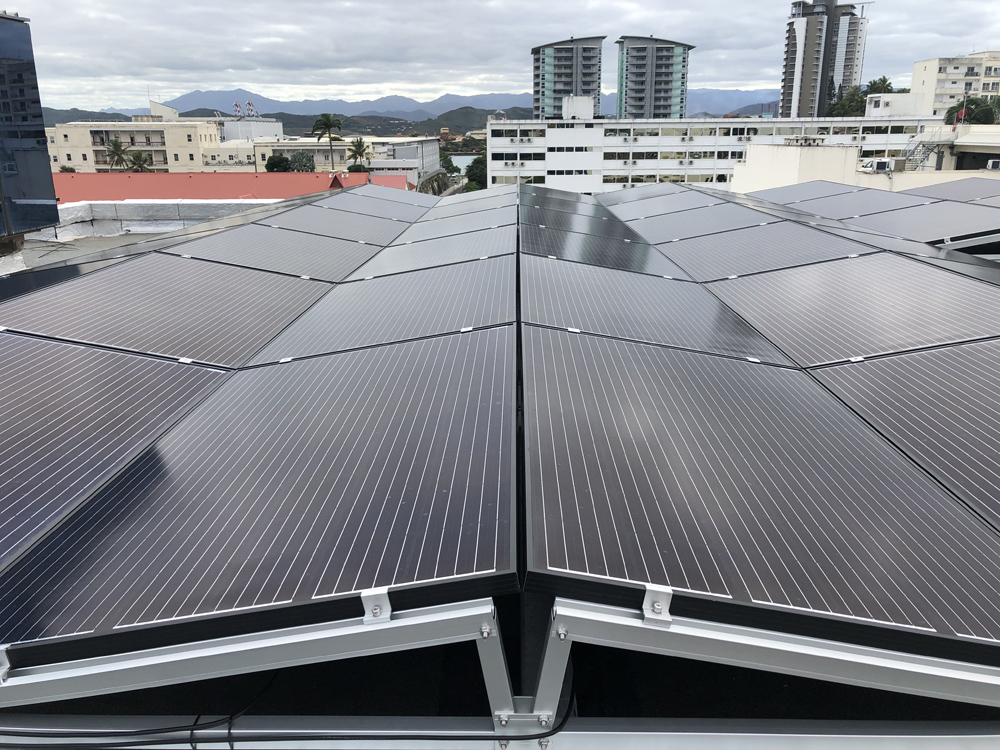 Why SMSP's choice to use renewable energies?
Tony TAVONG, SOFINOR Business Manager is in-charge of the execution and implementation this solar power project. He explains: "It is in the beginning a real awareness. We must respect our environment and limit our dependence on hydrocarbons." In fact, fossil fuels are not renewable on one hand, but they also produce a lot of carbon dioxide (CO2) and other gases such as methane, very harmful to the environment.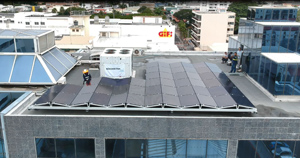 In addition, an incentive legislation in the form of a Government Order dated 2015, allows New Caledonians the opportunity to produce their own electricity consumption but also to sell their surplus to their main supplier.
Mr Tavong carries on: "Our building includes a number of offices whose energy consumption is mainly during the day. There is therefore an opportunity to produce green energy that will be immediately consumed. After comparative studies, SMSP management decided to move towards solar energy. "
Why going for solar energy?
As its name suggests, solar energy refers to capturing the energy from the sun through solar panels and subsequently converting it into electricity. According to the experts, in the space of an hour, the earth receives enough sun to supply the world with electricity for a year.
New Caledonia has a very high sunshine rate, with an average annual temperature of 23.1 ° C. This energy resource is abundant and free, its use is free of pollutants or harmful products' emissions.
It's 100% "green" energy.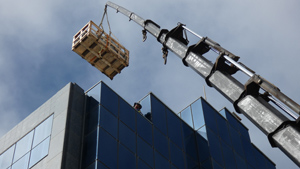 A construction site on the roof
Works began in July 2018 on an unusual construction site: the roof of a building in Noumea city center. The panels were uplifted using a crane to the building's roof. The installation and fixing of the solar panels have been completed and the device was put into service at the end of July 2019.
Which partner?
Mr Tavong explains: "The objective for the SMSP was to find a partner who could attend us on the whole project. That includes, funding, setting up and monitoring facilities. After a call of tenders, Socometra NC Company was ultimately chosen as a partner to undertake installation and support work for the production unit. SMSP can therefore benefit from the experience of Engie, one of the globasl leaders in the energy transition."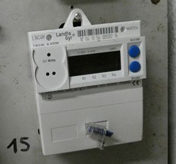 The device
The SMSP solar production unit comprises 100 solar panels fixed over an area of ​​190 m2, on two locations in the roof of the building. Its nominal production capacity is 49 kWt per year. Its lifespan is 20 to 22 years. EEC has replaced the conventional meter with a two-way meter, which accounts for the energy used and purchased, by deducting the energy produced and resold on the network.
A profitable investment
SMSP's main objective is to produce green electricity for its own consumption needs at the level of its building.
As a result, SMSP will benefit of an electricity bill reduced by at least 30% by optimizing energy consumption and selling surplus energy. For SMSP the estimated saving is about 850 000 XPF / year. Tony TAVONG, who has followed this project from conception to realization, concludes: "Beyond the economic important gain, SMSP is especially satisfied with the ecological benefit that welfares everyone. Indeed, our carbon footprint reduction has been estimated at 53 tons of CO2 / year."