By an exclusive commercial agreement with NMC, Cotransmine is in charge of the transportation and the loading of ore from the seaside to the ore carrier. Cotransmine drives its operations within four NMC mining centers: Ouaco and Poya on North-West cost, and Nakéty and Kouaoua on North-East Coast. It owns a logistics base on Numbo Bay and operates a fleet of 10 tugs and 26 barges, presently in full renovation phase. In 2019 the shipping company employs 57 permanent employees and 48 casual workers as per equivalent full-time job, i.e. a total of 105 employees during each loading operation period.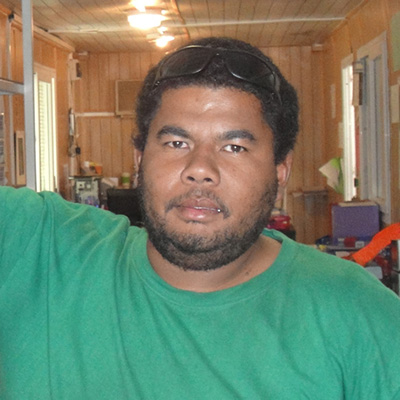 As a logistics and storage assistant, Marvin's daily job is to ensure the in-store products or goods' availability and to prompt the related supplies or orders.
Purchasing and inventory management
One of Marvin's main tasks is to generate all Téoudié's purchase needs (Purchasing Order Form), transfer them to the Purchasing and Logistics Department in Nouméa and ensure their follow up.
Moreover, Marvin has to physically certify the stock's outflows, i.e. prepare the requested items and hand them over to the person concerned, check that the latter has completed and signed the stock's withdrawal form. Téoudié's stock management is carried out with the support of the SEMAPHORE software, once a Stock Withdrawal Form is signed, or when a Product Exit Voucher is issued, in order to guarantee a permanent theoretical inventory.
Marvin is required to be familiar with a watch on the priority needs or others for the site's supply. The various departments and areas making up Marvin's "internal and daily customers" are: the administrative office; the welding/assembly and maintenance workshop; tugs; the loading dock as well as Téoudié center's 4 vehicles. One of the main purchases is that of 15 to 20,000 liters of fuel done twice a month.
Marvin also participates in the preparation, organization and implementation of periodic inventories which concluded file is sent to the Purchasing and Logistics Department for data entry.
HSE Referee
As a HSE referee, Marvin is in-charge of leading a number of HSE actions as well as being in-charge of the dispatch information on HSE policy at Téoudié.
During ore loading shipments, he has to monitor the permanent and casual staff of the personal protection equipment (make inventory of clothing and footwear sizes, place purchase requisitions, and organize distributions).
As an HSE referee, Marvin has to keep up various registers:
The Security Register (list of equipment, tools, the site's fixed and mobile installations, as well as all interventions or work carried out on each equipment and which is subject to the annual technical control by APAVE security company.
The Event Register (including the Work Register, the Waste and Environmental Treatment Register and the Accident and Incident Register (sent to the HSE service for the declaration of any occurred work accidents).
Marvin may proceed, in the event of suspected consumption by an employee of prohibited substances, to organise alcohol or cannabis screening tests in order to avoid the latter endangering himself/herself and other colleagues.
He must regularly check the good consistency of the equipment (excluding certification periods) of vehicles, machinery & appliances, power tools, pressure tanks and draw up, if necessary, the scrapping sheets.
He must regularly check the equipment good integrity (excluding certification periods) of vehicles, machinery & devices, power tools, pressure tanks and draw up, when necessary, the updated scrapping sheets.
"I love my job. Téoudié site is particularly pleasant. I am from Voh and I live in Ouaco and do not mind hit the road morning and afternoon." Any difficulty encountered at work? "During shipping loading, we all have a bit of stress… that all equipment work properly; or any breakdown, a technical emergency or others occured. But we're all more or less prepared for that", he concludes.
In 2001, Marvin obtained a Professional Baccalaureat in boil-making industry at Lycée Professionnel Jules Garnier. In March 2006, he joined Cotransmine as a welder, engaged by Pascal LAPENMAL, shopping manager, under the authority of Sam WILLIAM, then Ouaco center manager. In 2010, he completed at Numbo an internal training on inventory management before becoming a full-time employee in 2012 at his present position. In 2016, he completed a 6-month training course in partnership with KNS and become an HSE assistant.