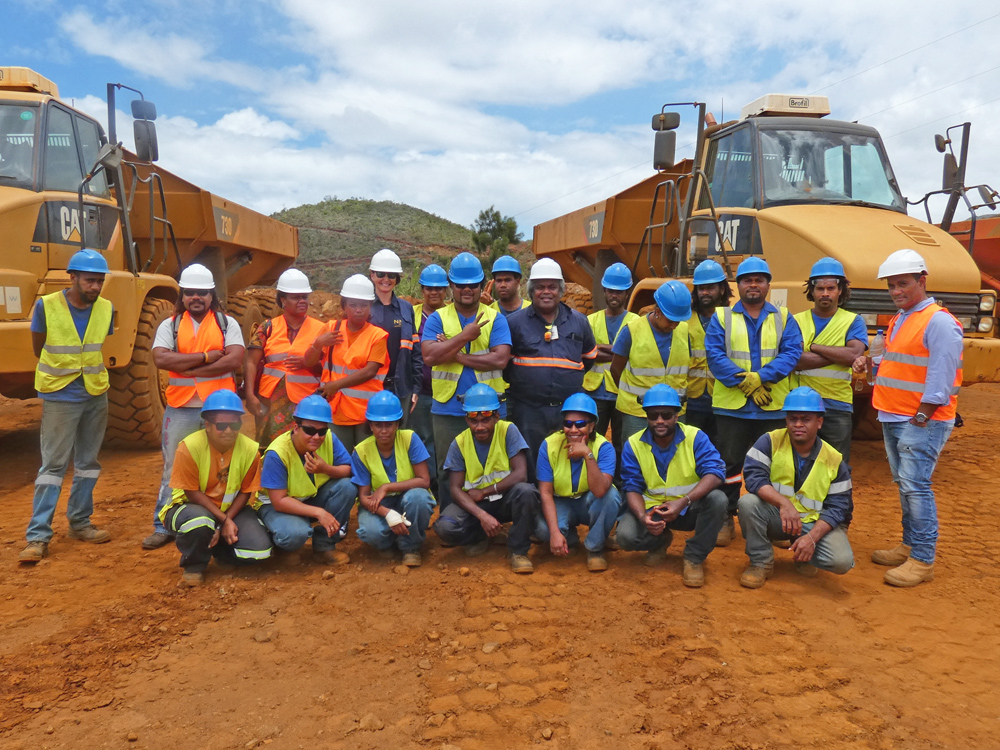 In November 2018, NMC launched a training program for the hiring of 16 job seekers from employment areas close to its Northwest Mining Centers. These jobseekers, all from the North Province, were recruited without any qualification requirements. They took courses during 8 weeks at the Poro Training Center to prepare them for the New Caledonia Diploma "Dump Truck Driver in a mining environment".
Words of encouragement
In early January, a meeting was organized at Poro Training Center to review their training course. On this occasion, the Operations Managers of Ouaco and Poya NMC Mining Centers expressed their willingness to welcome them into their respective working teams at the end of their training, while highlighting the good conduct rules as well as effective integration conditions within the company.
"I'm going to rely a lot on you," says Jean-Yves MY, Ouaco Operations Manager. "Here you receive excellent training. Do not underestimate your abilities. But trust yourself! I request a real commitment on your part: a change of attitude, of mentality, especially in relation to time management. First be always present, start on time and finish your job on time. It is necessary to leave behind, and to walk out of the assistantship system in which we are used to. We must be operator, actor in our country's economic development process."
Olivier HNIMINAU, Operations Manager of Poya Center, recalls the importance of healthy living and its impact on work performance. "The working hours begin at 4 a.m. to end 1p.m. and start again at 1.30 pm to end 10.45 pm. At Poya, the word "respect" must be understood and adopted in every sense of its meaning. Respect of working hours, of safety rules, of the working tools, of other colleagues, of resting hours and respect of the environment. Because we must be competitive. Work performance must also be measured against the quality of the ore as well as the handled volume produced each day." Indeed, today the center is facing with ABNA (unauthorized absences) and the penalties can be very painful.
Life changes in perspective, testimonies
In attempting to question the trainees, we notice at first sight certain self-confidence in their expressions, and a real pride. Basically all speak of building life or simply an outlook of a new life.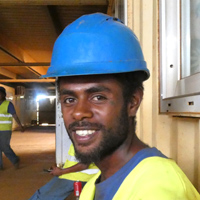 "My name is Yvance THEAN HIOUEN and I come from Poum's tribe of Aonvase. Usually my job is fishing. It's an interesting job, but not when bad weather occurs. We don't get any income though. I have 3 children and I need a stable job for my family. My father had worked in mines. It's been three years since he stopped working after an accident. If I graduate and get the job, my whole family will enjoy it, including my parents."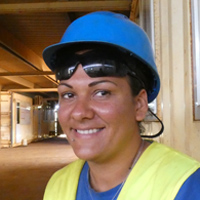 "My name is Lindsay BALEDIER. I am 28 years old and come from Koumac. I am very happy that my application has been accepted by NMC. It is a very rewarding experience. I had a Vocational baccalaureate on sales. But mining sector is driving our country's economic development. In addition I enjoy the big mining machines. Driving them is a dream. I am the only girl in the family and I am going to work in mines. My parents are very proud of me. I will do everything to get my Diploma and get a job. Finally I'll be able to support myself and my 4-year-old daughter."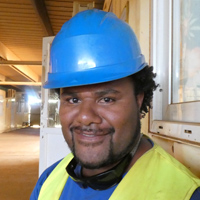 "My name is Marlon NEMBA. I am 22 years old and am from Emma's tribe in Canala. I am currently living in Népoui. I was previously trained as a metalworker at the RSMA. This allowed me to work at Enercal Thermal Center in Népoui, in overhauling of engines and under short term contract. I need a stable job because I have a two-year-old boy, Aaron. I am lucky to do this training, to learn the job, to handle the machines while remaining vigilant. It's not easy, but I'm very motivated because this will lead to employment. I encourage young people, especially those without qualifications, to not hesitate to follow this process."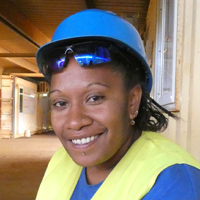 Muriel MEANDOU POVEU is 27 years old and she comes from the Goapin tribe of Poya. "I have a Vocational Baccalaureate in accounting obtained in 2010. But I want to work at NMC. It allows me to live within my tribe and my family. No need to move. I registered several times at the MIJ without being successful. I did not give up and today I am happy to integrate this training. I learn and strive myself in my apprenticeship, such as night driving. When I work, I will participate in the family expenses."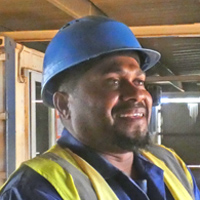 Regarding Franck MAKAM, he is 32 years old and is from the Atéou Tribe in Koné. "My father-in-law is a Team Leader in Ouaco. I have been a mining machine driver in Poya, but I have never received any training. For a long time (over 10 years) I felt the need for training to have a stable job. I have 3 children, two boys and a girl. Until now it was my parents-in-law who took care of part of my family's needs. Like for example buying Christmas gifts for my children. I absolutely need to get my Diploma. While working at NMC, I could also realize my important project that of building a house for my children. I thank NMC and SMSP for this program."
Words of thanks
Blandine CHARLOT, NMC Training Manager, thanked everyone involved in this scheme. "Each of your interventions has been impactful and has given meaning to our action. These words of encouragement highlighted the chance that this training represented for them as well as an exemplary behavior to adopt at work in the company. Thank you all for your investment, each one at your level on this project", she said.
On January 31, all trainees graduated. All were hired and joined the Ouaco Mining Center (8) and Poya Mining Center (8) on February 4 as a Dump Truck Driver.