Wednesday, January 20, 2016 at 14:30 the Koniambo Nickel's Team conducted the first casting of Furnace n°1, after its rebuilding, during which operation 45 tons of ferronickel were produced on the Vavouto Industrial Site. The Furnace n°1 was shut down in 26 December 2014, due to a molten metal leakage. After investigations, the Koniambo Nickel SAS' and its subcontractors' engineers have implemented some design changes on the furnace while carrying out the reconstruction works.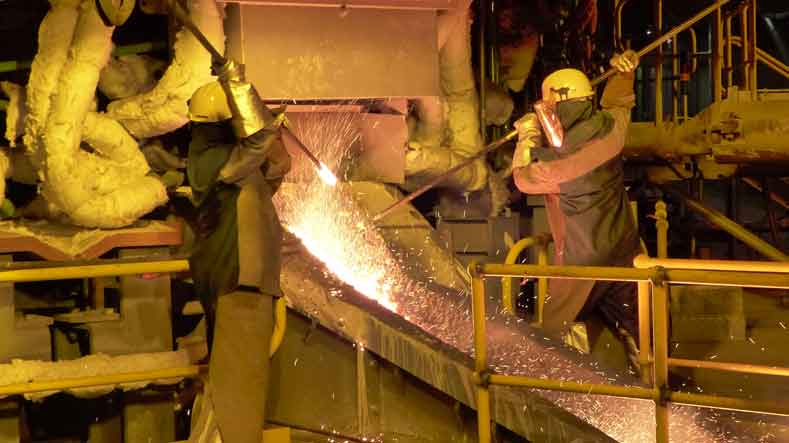 The capacity of the Furnace n°1 will be gradually increased during this year. "During 2016 first quarter, KNS team will operate the furnace by increasing gradually its throughput, while ensuring that the improvements made in the furnace during its reconstruction are satisfactory and give the expected results" explains Hervé Régnaut, Project Manager to SMSP. "The aim is to reach this steady phase in accordance with the annual production target of 16,000 tons of equivalence nickel metal. This represents a KNS total annual production of 45,700 tons of ferronickel" he declared.
In an interview given to Les Nouvelles Calédoniennes, Peter Hancock stated that after the furnace n°1 will have been restarted, and has reached its normal operational phase, KNS will proceed with the shutdown of Furnace n°2. "The Furnace n°2 will be rebuilt when evidence will be made to shareholders that repairs on the first equipment have been conclusive," he resolved.
In the meantime, the number of sub-contractors and employees working on site should not change.
Furthermore, the information was released this Wednesday, January 20 by Koniambo Nickel: Marc Boissonneault succeeds Peter Hancock who officially left office on January 27. With more than 25 years' experience in mining and metallurgy sectors, Marc Boissonneault previously held the position of Vice President within Glencore.
KNS Management Council, expressed its appreciations and thanks to Peter Hancock for his firm commitment to Koniambo Nickel.