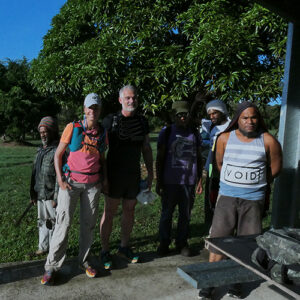 For the third consecutive year, the SMSP group is organizing its Trail, which will take place this year in the Municipality of Poya, Tribe of Nekliai-Mwéü on August 6!
As in previous years, this edition of the Trail SMSP of Poya 2022 will offer 3 trail tracks:
2 tracks of 10 and 30 km in the middle of the lush and mountainous landscape of Poya;
1 hiking-planting track of 3 km by the sea at the facilities of our subsidiary NMC;
Free visits of the NMC mine at Poya is available with registration this day at the SMSP's stand from the morning. There will be 3 rotations: 9:00, 12:00 and 15:00. Departures will be from the Trail site.
The public will have the opportunity to visit the stands of the SMSP Group's subsidiaries and its partners. Of course, the associations and artisans of Poya, the welcoming tribe Nekliai, and the surrounding tribes Montfaoué, Ouendji, Nepou, Nétéa and Karadji, will offer stands of handicrafts and food stalls.
"The riders will remember this course, the difficulty and the breathtaking landscapes."
A campsite with secure parking will also be offered for sportsmen who wish to. They will be able to indicate their wish to have a meal on arrival, prepared by the tribe, for XPF 1000, and a breakfast for XPF 500 to be paid on site for Saturday 6 August in the morning. There is also a welcoming area for children for XPF 1000 per child, including a snack.
This event is meant to be "Zero Waste", which is why our activities will be organized in such a way as to minimize waste generation.
The recognition of the 10 and 30 km tracks was carried out last week, on 2 and 3 June, with the help of the guides of Nekliai and Karadji tribes. They completed the reconnaissance within two days, exhausted but delighted. According to Axelle of Challenge Organization "the riders will remember this course, the difficulty and the breathtaking landscapes".
We would like to make this event an opportunity to meet, share and discover our NMC site at Poya and we would like to thank the Mayor of Poya and the Customary Council of the Mwéü District with the chiefs of Nekliai clans for their collaboration in this adventure.
Do not hesitate to go to the Challenge Organization website (https://www.challenge-org.nc/evenements/_/trail-smsp-2022/) where you can find all the related logistics (camping, parking, childcare, meals etc.) and register. It will also be possible to register and pay cash directly by joining a member of the Organizing Committee at the following number: +687 78 67 38.
See you soon!