24 young persons have joined Nickel Mining Company's workforce (NMC), SMSP's mining branch. They were recruited as mine machine operators and are assigned among the four NMC mining centers as follows: 7 in Kouaoua, 7 in Poya, 7 in Nakéty and 3 in Ouaco. The latters will contribute to NMC's production rump-up, in order to comply with the supply needs of the New Caledonian Plant located in Korea, SNNC (NC and Korea Nickel Company).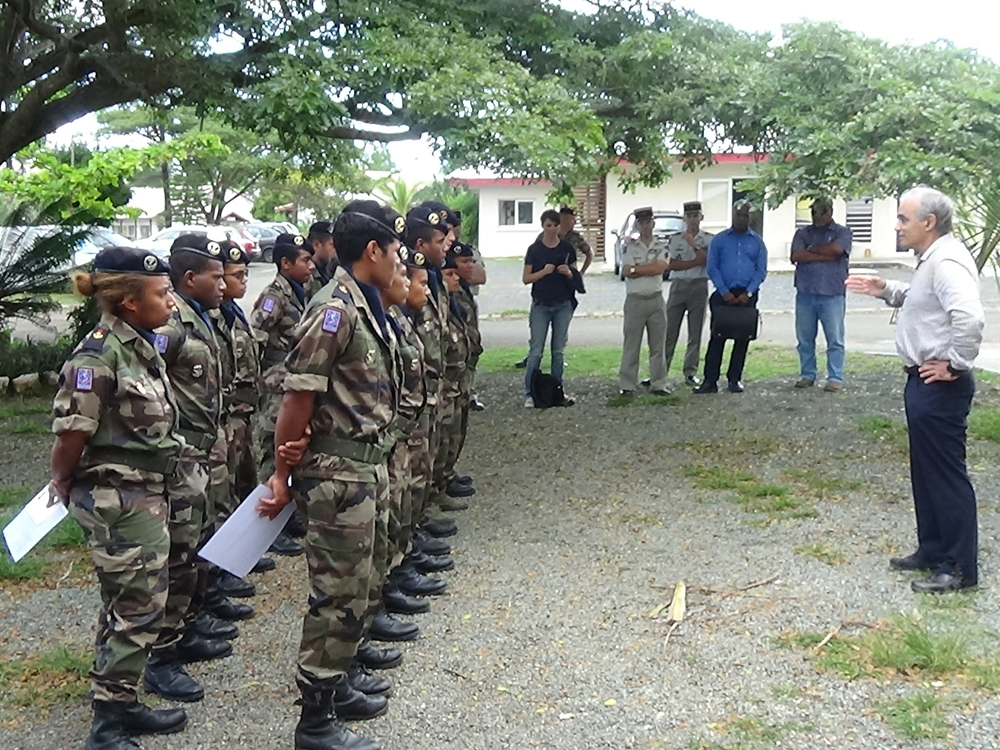 All of them are graduated with the New Caledonia Diploma "Dumper Driver in a mining environment". Selected without qualification, they completed two-month course at the CFTMC Training Center (Training Center for Mine and Quary Techniques) in order to obtain those qualifications, vital to get a job in the mine sector. 14 among them are part of the mine industry training scheme, set up this year by the RSMA (Adapted military service regiment).
Monday, September 3 was dedicated to their welcoming by the respective Operation Managers of NMC mining centers, located in the Northern Province: Ouaco, Poya on the West Coast; Kouaoua and Nakéty on the East Coast. On the schedule: safety induction, delivery of personal protective equipment (PPE), introduction and presentation of the center (organization chart) and the visit of work sites. The opportunity for these new recruits to discover the working hours, the conditions, the environment and the working sites.
Poya : "It brings new blood and vigor to our production teams"
"Poya Center is fortunate to welcome these new recruits. This brings new blood and vigor to our production teams" says Olivier HNIMINAU, Poya Center Operation Manager. "They are certainly young! With an average age of 23 years. But we need their support to achieve our production goals" says Olivier HNIMINAU. Brigitte METUA, HR Manager at Poya Center, in-charge of welcoming the 7 new recruits, emphasizes the importance of that day: "On this occasion, they get to know their time-table and shift working hours to which they are related to. The main focus is put on the respect for the working conditions and the need to take care of the tools made available to them." Olivier HNIMINAU ensures that a companionship system is set up with the assistance of the center's experienced drivers, to guide them during their time of immersion in the company.
Nakéty : "7% increase of staff"

According to Olivier BARRETTEAU, Operation Manager of Nakéty Center, "in a practical way, we are familiar with them, as we selected them, interviewed them and followed on during their training. They all come from Nakety. This scheme allows young people from this location, away from the market labor and without qualification to benefit from training combining knowledge with preparation to direct access to employment."
"Today, these 7 new operators will directly involve in the mining activities and participate to the economic development of this region, within their living area boundaries. They represent 7% of the center's total staff which increases from 103 to 110 employees" Olivier stated.
Ouaco : "Renewal of staff"

"These new recruits, who represent essentially a renewal of our workforce, will contribute to achieve Ouaco Center's production targets," says Jean-Yves MY, Ouaco Operation Manager. "Some departures could not be replaced. Moreover, KNS production ramp-up also pushes to migration. We must regularly renew our resources to guarantee the achievement of our annual production objectives: 1,100,000 tons of ore, out of a volume of 4,500,000 tons of initial handled ore. On average, it's the equivalent of 2 ore carriers per month. This integration process is a real success because the new staff joining our center is immediately operational."
Kouaoua : "Beginning a job with such an attitude is very positive for us and particularly promising for them for their future"
"We are very happy to welcome them. This is job creation positions" says Jean GOUROU, Kouaoua Center Manager. The seven new recruits come from surrounding populations of Kouaoua and Houaïlou municipalities.  Indeed the Kouaoua life-base does not have the necessary capacity to accommodate all the Center's employees. According to Jean GOUROU, the young operators are very motivated and will certainly strengthen the production teams. "In addition I like their "disciplinary side" assimilated throughout their training. And beginning a job with such an attitude is very positive for us and particularly promising for them for their future endeavor" he states.
In New Caledonia, the 2017 unemployment rate was 11.6%, that is to say 14,900 job seekers. The phenomenon strikes three times more youth under 25 who represent 36% of job seekers, according to the National Institute of Statistics and Economic Studies (INSEE). Considerable efforts have been made to welcome, to support, to train and develop the young people skills in the country. NMC takes part of this dynamic of RSMA and CFTMC, including institutions such as the Northern Province, the MIJ (Youth integration mission) and DFPC (Direction of continuing professional training) to welcome these young people at the end of training by offering them a job. According to Stéphanie MINE, Head of HR Department at NMC who is leading this scheme recruitment: "Another pool of 18 young people, among which 8 currently in training and 10 remaining to be selected in collaboration with MIJ to be trained, will have to be hired by NMC by December, 2018. "