Byung-Ho LIM is from South Korea and is one of NMC's 3 Korean Employees out of a total workforce of 665 (as of June 30, 2018). He holds an MBA from the United States. He joined POSCO for more than 12 years and has occupied several senior positions especially within the Department of Raw Materials. Since March 7, 2018, he holds the position of Vice President Administration and Finance at NMC, also in charge of Marketing and Sales and Information Technology.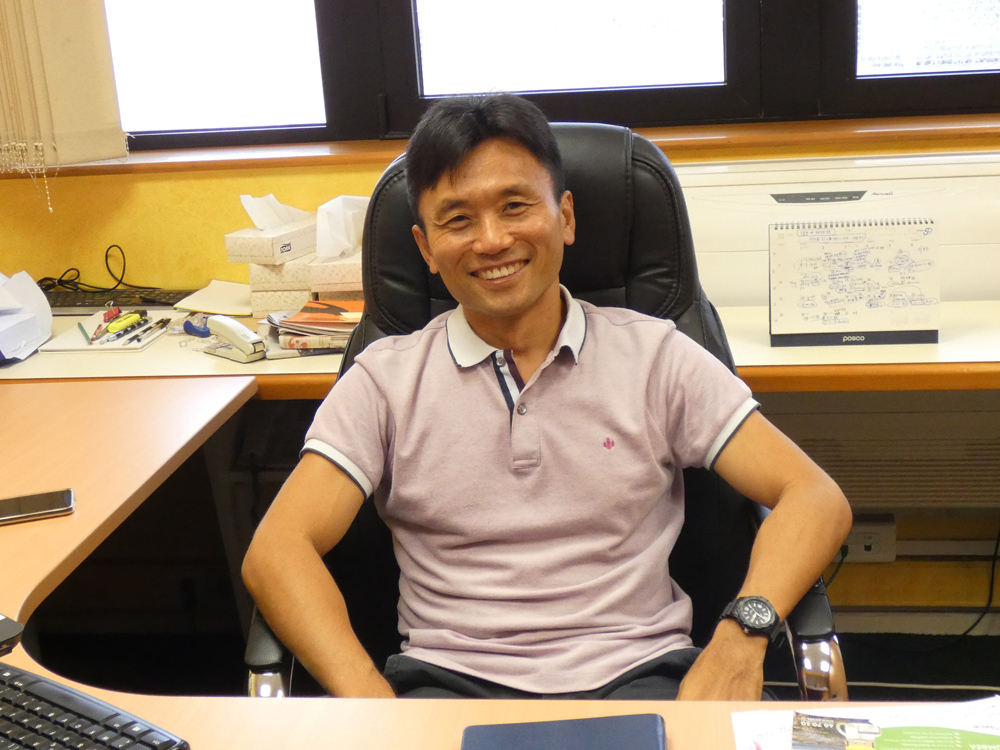 It was with a generous smile that Byung-Ho LIM welcomed us in his office n° 3 located on the 1st floor in Carcopino 3000 Building. After seven months of assignment in New Caledonia within NMC, we wished to share with him his first perceptions and experiences in the company. The opportunity for the latter to deliver his views on the global nickel market.
Byung-Ho LIM explained: "My role is to be an NMC Vice-president. But with Didier, I would like to make more improvements for NMC so that the company can survive under any kind of harsh market situation, without a help from both shareholders. I have been involved in NMC and SNNC projects since fourth quarter of 2013. Before that, since 2006, I was in charge of Nickel, Ferro Chrome and Stainless scrap purchasing in the Raw Material Department in POSCO. I was then assigned to the Raw Material Department, with four years experiences in POSCO China, at its subsidiary, Zhangjiagang Stainless Steel Manufacturing Company." The Raw material Department processes and monitors market trends on a daily basis, including supply and demand data which regulates the nickel's price.
SMSP Com: "What can you say about the current situation of the nickel market: price, stocks, the role of China as the first consumer and others?"
BHL : "The market is expecting a shortage of nickel. The demand for the electric cars' batteries is growing rapidly"
"LME nickel price went down recently due to trade war between USA and China. It is our understanding, that if this war continues for a long period of time, it could have a significant impact on the global real economy. That is a reason why many investors reduced their exposures in metal investments, including in nickel. I hope USA and China can find a good solution during the next month meeting between two countries' presidents."
In fact, since January 2018, we have witnessed a growing trade war between China and the United States. Today this tariffs war is undermining global economic growth which is fed with trades across the globe, and this is increasing the uncertainty and wait-and-see attitude of businesses companies.
BHL: "With the exception of Global economic environment, the fundamentals of the Nickel market itself look strong. On the demand side, the growth of the Stainless industry is growing steadily every year and the demand from the battery for electric car industry is expected to grow rapidly from 2020 on. Therefore, I believe there will be strong demand for mid and long term. As for supply, the low LME price has limited the investment into new nickel production assets, with the exception of the Indonesian NPI projects.
Based on the reasons stated above, the nickel market is expected to undergo a shortage until new nickel production assets come on-stream. But it will takes at least 4~5 years to have new Nickel product once we decide new projects."
In the course of the 6th Asian Nickel Conference (a Metal Bulletin Event), held in Jakarta on September 2018, Xiao FU, Head of China's Commodities Market Strategy Department, presented forecasts for the progress of the battery market shares,  indicating an estimated increase of 20 to 60% by 2030 on nickel demand for batteries.

SMSP Com: "What is the weight of China in the nickel trade?"
BHL : "China is a very important country for Nickel industry because they produce and consume roughly 50% of global Nickel"
"Recently China started to increase usage of Stainless steel scrap which may reduce Nickel consumption in China. I think we need to carefully monitor the trend of Chinese Stainless steel scrap ratio."
According to Metal Bulletin (dated November 12, 2018), in China, stainless steel output is expected to reach around 26 million tonnes end 2018. While as for its nickel-containing raw materials, scrap stainless steel grew from last year and accounts for 16-18% of feedstock due to China banning the production of substandard steel and, thus, opening up scrap stainless steel – substandard steel's key feedstock – into the market.
"Despite China's scrap usage growing, its market share is still a lot smaller than proportions on external market, which is usually between 60 and 80%", according to Xu Aidong, Chief analyst of Beijing Antaike Information.
SMSP Com: "How is your stay in Nouméa? And what can you say about the difference of culture? Learning French…"
BHL : "The Importance of French and Multilingualism in NMC"
"Since I had many chances to visit NMC in the past and to work with them, it felt it was OK to adapt myself to new environment.
I am learning French but it is not an easy language to learn because of the complicated grammar and pronunciation. However, I know the importance of the language to work for NMC so I do my best to learn French even though it may take time."
SMSP Com: "What is your perspective on the current situation of NMC?"
BHL : "NMC's main Target: increase production and reduce costs"
"First, I appreciate all the progresses which were made by NMC people during the last a couple of years. However, I believe that NMC should make more improvement to survive by itself. I think the most important issue is the production increase since it is highly related with production cost and Ni grade. NMC need to more focus on stable production increase (NMC has a high fixed cost).
As soon as NMC has stable and profitable production, NMC can solve financial issues.
I hope all NMC employees and subcontractors understand the Company's current situation and will support NMC for a higher production."
SMSP Com: "What challenges do you think NMC will faces in the next 5 years? Or in the next 10 years?"
BHL:  "The problem is debts from banks during low LME price period. Big reimbursement plan is scheduled for the next 5~8 years so NMC production cost is so important. NMC should make enough profit to reimburse the debts on time. Therefore, financing will be a major issue for NMC."
SMSP Com: "Despite geographical remoteness, what are the means you and NMC Management are advocating to bring closer and / or improve communication between NMC and SNNC?"
BHL : "NMC and SNNC must consider themselves as belonging to one and same company"
"I think the solution to the main problem of communication is a better understanding for each other. From SNNC point of view it will be difficult to understand NMC because of different culture and working environment. To improve the relationship between two companies, we need to initiate more chances for meetings in order to understand each other and discuss issues between these two companies.
Also, NMC and SNNC need to consider themselves as belonging to one and same company. If NMC and SNNC are trying to protect only their profit, it will be difficult to improve the relationship.
I wish to thank NMC staff for its warm hospitality. My message to all: Let's do our best together to build the healthier company!"
Didier Ventura NMC's President said: "I enjoy working with Mr Lim, because he brings with him our Korean partner's accurate own rigor, while being aware of cultural differences. He is a sportsman, which implies both, a flavor for effort and the respect for others."