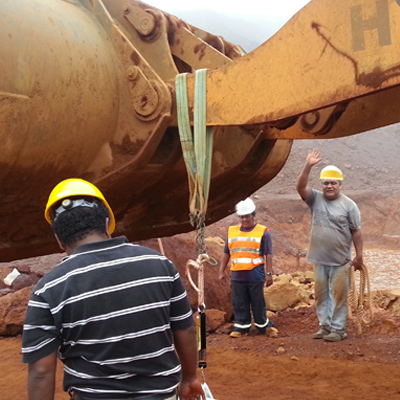 On December 12, 2021, SMSP Group, NMC and SOFINOR were saddened to learn of the death of Victor NIAMEY, former head of the NMC Nakéty Centre. Victor worked for 11 years at NMC Nakéty Centre. In 2005 he was appointed as Operations Manager before becoming Nakéty NMC Centre Head three years later in 2008. As a bearer of memory of the Nakéty site, he was also a respected professional who was consulted long after his retirement.
What career path? The quiet ascension from machine driver to NMC Centre's Head at Nakéty
Victor began his career in Nakéty on 1st of June 1979 as a watering machine driver, then as a dumper driver on "Bienvenue" Mine. He then moved to the position of Mine Manager on Circée Mine, a position he held until the takeover of all the Nakéty mining areas by SMSP.
In the meantime, he completed a team leader training course at SLN, supported and encouraged by his hierarchy.
In July 2005, he was appointed as Operations Manager at NMC until April 2008 when he becomes Nakéty Centre Head. His appointment to this position was encouraged and desired by his colleagues, while his closed relatives strongly supported him. It is therefore natural that he continues with a team he knows he can count on. He will hold this position until his retirement in April 2016.
Victor is a Head of Centre dedicated above all to NMC and SMSP
His vision

Victor NIAMEY was a professional, but more than that, he never stopped sharing his vision of the company, the group and the meaning of our daily actions. He loved his work on the mine and hoped that every mine worker would experience it by sharing this enthusiasm.
When an NMC ran out of ore and the ship had to be loaded in its place, he saw this as a strength. This proves the ability of the four NMC Centers to help each other. "We should not concentrate on the Nakéty Centre, but we should reason in terms of NMC, and even SMSP. Every time we miss an opportunity to help each other, we just penalize ourselves," he said.
He said to his team leaders: "Never forget, the mine does not work with "maybe"! To achieve your goals you need to have faith in yourself and determination. To be respected and to have authority over your teams, your yes must be yes and your no must be no. You must gain the trust of your teammates to earn their respect.  Availability is essential, it enables you to concentrate and devote yourself to your job. If you really love your job, you will never do without it. Courage is needed at every stage. You must never give up until the game is over. When you play a football match, the aim is to win it. You, the generation of today, as everything is simplified, you presume that everything is automatic. But No! Everything is not automatic! You have to be a fighter until the end. Everything has to be done and is done on the mining site. Acquiring experience on-the-job may mean stealing someone else's job without having a qualification. And yet the training you need to acquire is that of the 'system D', and that is doing with what you have in your own hands."
"It's only when the tree is falling that we can measure its height and recognize its greatness", Victor NIAMEY liked to say during his days.
Open-minded and forward-looking, he explained that his position as Mine Manager had enabled him to understand the monitoring and control of the ore's progress and processing, from drilling to loading.
One of his close associates said that during a trip to Japan (meeting with Gokokai), he had visited the Nippon Yakin Factory and had been impressed by the respectful and humble attitude of this Company CEO towards his employees. From this trip he learned lessons, both professionally and in terms of the human resources as well as environmental aspects.
"In Japan in winter, even the street trees are protected from the cold."
There he also learned that governing is above all about planning, anticipating.
Among the many anecdotes shared by his colleagues, one was important to Victor. When loading one of his first ships for Japan, 4,000 tons were missing from the order as the sea-side ore stock was exhausted. Together with his teams, they had to sort the falling ore by hand to complete the missing volume in time with the then required grade of 2.45%. It was a great experience and a mark of respect, courage and trust from his teams that he has kept in mind for a long time.
Tributes
Isabelle WABETE, NMC President, NMC Internal Press Release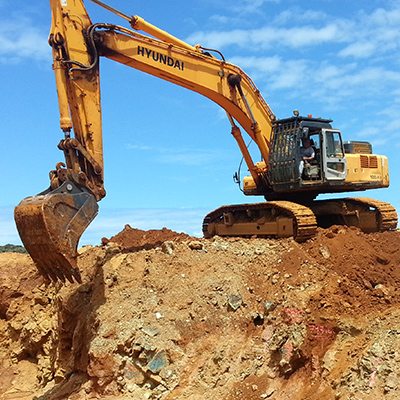 "Victor may have seemed intimidating at first, but he was one of those rare charismatic leaders that the country so desperately needs and that the NMC has been able to count among its staff. We are very fortunate to have had him among us and we hope that his career path and his commitment to work as well as to our Company and SMSP Group will inspire the new generation, as it did for us."
"I started working with Victor in 2009, when I was the Mining Planning Department Manager. I visited all the centers including Nakéty. My first impression of Victor …Intimidating which causes one to feel a sense of fear of not being up to the job. A man from the mine, very experienced who commands respect. I learnt a lot about mining from my discussions with him that no amount of higher education could provide."
"I like his charisma, his dedication and behind this appearance of firmness, this smile very often more humoristic. I think that our young people can find inspiration in his career as I myself have found a model."
Olivier BARRETTEAU, Head of the Nakéty Centre

"I have worked with Victor since 2011. He took me under his wing and "introduced" me to the NMC Centre as well as to the village. He had a great attachment to the company and the people who work there."
The current Head of the Nakéty Centre adds, "he knew a lot of things. He himself had experienced many events and knew many people with whom he had strong professional ties and relationships. I remember him being able to jump on a shovel at the weekend and go and do some content on a building site for the boat the following week."
"He is a Man of great value. A committed, demanding man who was respected by all who came into contact with him. He was an honest, frank person who didn't talk too much but whose words were always fair and scathing. Today, with his departure, we lose a lot, Nakéty loses a lot and I want to believe that the whole country loses a great person. I already miss his advice and anecdotes. On the day of his retirement, he told us a phrase that I remember from him: You can't do anything good alone, you have to move forward together."
"I simply want to thank him for all that I have been able to learn and acquire at his side. I want to share this knowledge today with the younger generation. Words are not strong enough to thank him."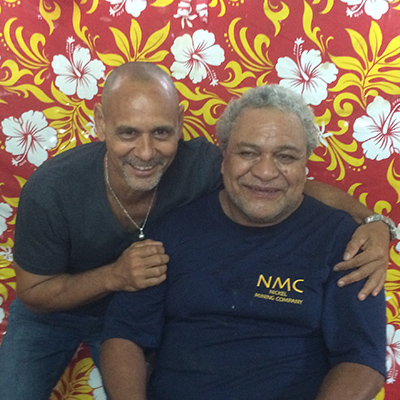 The Nakéty Man
His favourite quote: "Life is worth living."