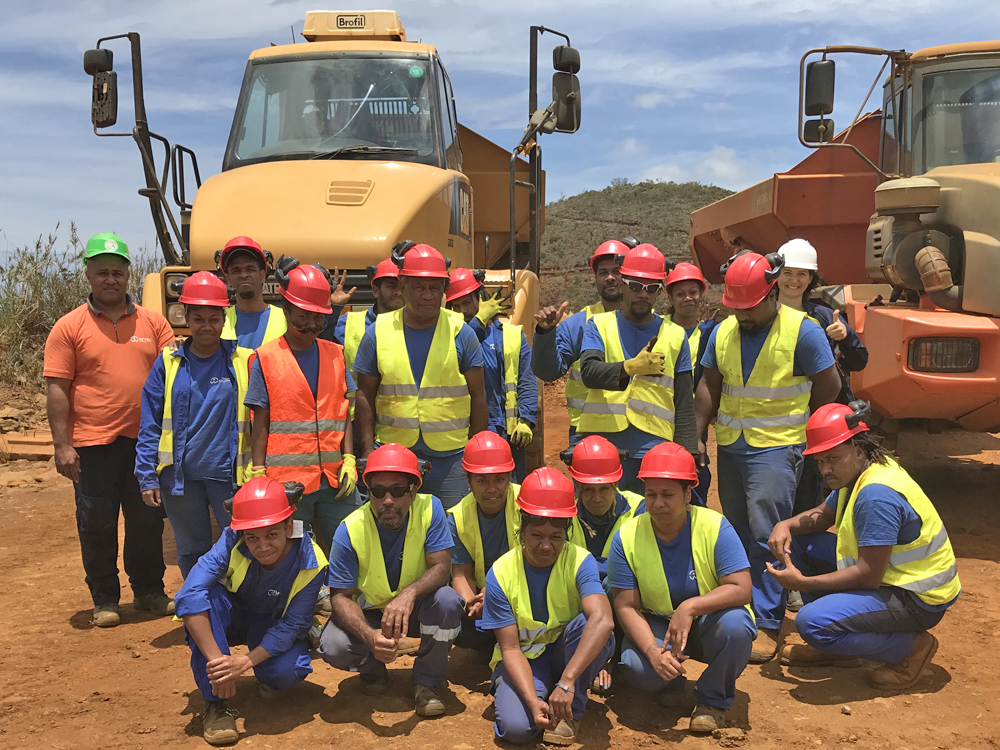 Company's targets
Do-Oulo Magazine highlighted early 2017, "NMC's race against the clock". In this 16th edition, NMC President Didier Ventura recalled the company's goals, urging all staff to "move up a gear", saying, "achieve 3.5 million tons of ore in 2017 is our ultimate goal. Current 650 jobs must remain. The key to success is in each and every employees' hands".
As the mining branch of SMSP/POSCO partnership, NMC's role is to supply the Sister Company, SNNC, the Gwangyang Caledonian Plant, resulting from the same partnership.
SNNC launched its second production line on March 2015, raising its production capacity from 30,000 to 54,000 tons of nickel metal per year.
NMC has therefore got to double its production, from 1.8 million to 3.4 million tons of ore at an average grade of 2% Ni, to respond to SNNC Plant's upgraded production capacity.
The mining company has undertaken the ambitious challenge of training and recruiting 60 new to achieve  its 2017 production targets and comply with its mining centers' human resources needs, all located in the Northern Province.
Methodology
In partnership with the Northern Province and MLIJ (local Youth Development Center), NMC met with youth in search of jobs, living in the surrounding tribes located near mines feet, offering them a training at the end of which a position in mine could be assigned to them. Note that these young people do not always bear qualifications, experience or a skill required for the respective position. But their greatest asset is undoubtedly their enthusiasm and motivation to work and to participate in economic development taking place within their community.
"This initiative is part of a logic of empowering local populations and rebalancing economic development. Although we are committed to achieving our economic goals, but as any local and New Caledonian Company, we must not only ensure our sustainability, but also invest in the social development of local people to ensure their respective participation in NMC sustainable development", explained Didier Ventura, NMC President.
Subsequently to a pre-selection by the MLIJ, the designated candidates underwent cannabis detection tests, motor tests and individual interviews. The dream of driving a truck on mine, for a young man or woman remains a reality among the youth populations of the Northern Province mining towns. At the end of these interviews, 60 young people were selected to undertake the training.
Training
8 weeks training of driving were conducted at Poro CFTMC alternating theory and practice such as: machine handling, maintenance, loading and unloading, safety conditions and regular tasks to be respected at the end of the working time.
Directly plunged into the ground reality, students are subject to the same rules as employees such as punctuality, respect between colleagues, the prohibition of cannabis use and the care of their gear. In addition, learning and driving a dumper helps them become responsible for their work tools.
Directly immersed into the field, trainees are subject to the same rules as employees such as punctuality, respect of colleagues, the prohibition of cannabis and alcohol consumption and the taking-care of their equipment. Learning and driving a dumper helps them become accountable towards their working tools.
Employment
Following satisfactory courses results and as expected, a total of 60 young workers joined the 650 existing employees. They are assigned among the four NMC mining centers: 17 at Poya, 14 at Ouaco, 12 at Kouaoua and 17 at Nakéty.
NMC would like to thank all those who are directly or indirectly involved in this recruitment and training process, especially the MLIJ and the Northern Province for their actions and the resources allocated as well as the members of its human resources department.
Congratulations to all!