After 5 years at the leading Nickel Mining Company (NMC), Didier VENTURA will definitively leave his present functions on December 31st. Didier VENTURA joined the NMC on December 1st, 2014 as President. But Didier VENTURA has been working for more than 12 years within SMSP. Indeed, for more about 7 years (from May 2008 to November 2013) he successively occupied the position of Vice-President in charge of Operations as well as that of the Vice-President Mines and Engineering at KNS.
We wonder if the Caledonian nickel mines still have secrets to deliver to this "Mr Mine", trained at the Paris Ecole nationale supérieure des mines. Indeed, from 2000 to 2008, before his assignment within SMSP subsidiary's companies Didier VENTURA was Mines Director at the Société Le Nickel, a subsidiary of the French Eramet Group.
At NMC, one of his major assignments is certainly the rump-up of the Mining Branch Company under the SMSP-POSCO partnership, in order to secure the supply of ore to the Caledonian Plant located in Gwangyang, in accordance with the needs of SNNC new production capacities. Several projects are included in the program: firstly, the men safety at work, the staff increase on mine to support the ramp-up process, the development of infrastructures (in particular establishment of offices on mine), as well as major environmental works. But certainly the top priority remains lowering cost price, which must go through a good performance leading to lower costs. An exercise more difficult in a context of nickel suffering market, where each operator is forced to restructure in order to keep their heads above water. Didier VENTURA sets out clear objectives "Above all the financial balance". He gathers his troops and encourages them to be effective, to cross the boundaries of the possible. "We can and must do better. Our future will depend on our price cost thanks to effective performance", headlined the works council newspaper, Dö Oulo.
On the eve of his departure from the company, some of his collaborators wish to express their gratitude.
According to Stéphanie MINE, Human Resources Director: "Didier is at the same time a leader and a guide for all of his employees. He knew how to grow-up and structure our business, by giving us a taste for challenge and performance. His commitment, his adaptation, and his proximity as close as possible to the field, made it possible to maintain this feeling that NMC is and will remain a "big family" and that the results obtained are the fruits of each at his own level."
Yong SEONG, NMC's Commercial Director, explains "With Mr. VENTURA, the loading of NMC ore went from 34 to 74 ore carriers from 2014 to 2019. What I remember is his constant presence alongside each of his employees. When I run into trouble, whether it is on weekends or in other circumstances, I call him and here he is by my side. When facing challenges, his advices are insightful and takes us through the obstacles. With him, we were able to ramp up the mines, as we were also able to deliver the cargo to China. Thank you, Mr. VENTURA."
As for Yan Constant, Director of Technical Services "I want to thank the man that he is. He is a person of great strength and strong commitment. He knows how to bring forces together to put them at the service of the country's development for which he has a particular attachment. A true leader who knew how to transmit and share his know-how and his experiences with his collaborators. He helped improve the company's economic situation. But deep down, he is a man with a great sense of humanity. His objective is to seek performance above all, but this in respect of the women and men who make up his team. Besides, for a president, it's quite surprising that everyone calls him by his first name. He has a deeper sense of listening, but in moments of intense or tight negotiations, he can be very tough, does not let go, camping on positions sometimes difficult for his opponents to accept, when it comes to safeguard the company's interests." Yan accompanied Didier VENTURA on his farewell tour of all the NMC mining centers. "Acknowledgment, thanks and beautiful testimonies have been returned to him, not only by the staff but also from custom representatives and social partners, and even more surprisingly from some of his yesterday's opponents." Says Yan.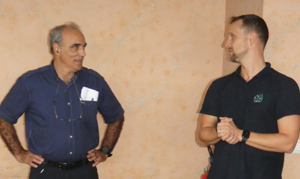 On the occasion of the farewell party organized at Carcopino 3000 Building, Karl THERBY, Group Administrative and Financial Director, address him words of thanks and appreciation on behalf of the SOFINOR/SMSP Group. "We can all be great technicians but we need a good captain to steer the boat and direct the crew. Thank you Didier for being a good captain at NMC. You were a good leader who knew how to serve and defend the NMC's interests as well as those of the Group. We are all sad for your departure. And we know that many other challenges await you in your new endeavor. Thank you and congratulations for the work accomplished."
In his farewell message, Didier VENTURA spoke with great emotion. "I leave with regret but without bitterness. Regrets for having left exceptional collaborators and friends. The future is in your hands, and I trust that all of you will stay the course to bring results to fruition. To each of you, among the 686 NMC staff members, here in Noumea and in the mining centers, I would like to thank you. You have accompanied me faithfully for the past 5 years." Concluding with a "Hip hip hip Houra for NCM!" In unison with all the staff and guests present.