SNNC: a Caledonian-Korean Metallurgical Plant in South Korea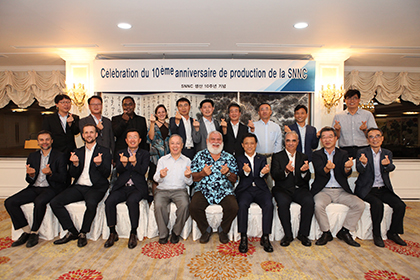 SNNC, Société du Nickel de Nouvelle-Calédonie et Corée, is a modern, high-performant metallurgical plant, committed to preserve the environment at every step of its process. Thanks to its proven manufacturing technology, the plant has a nominal production capacity of 54,000 tonnes of nickel metal per year, that is mostly sold to POSCO.
The metallurgical plant is the outcome of a partnership between SMSP (51% shareholder), the Caledonian mining company, and POSCO a Korean company (49% shareholder) and one of the world leaders in stainless steels. Two joint-ventures were established in 2006: Nickel Mining Company SAS, which extracts and produces nickel ore from mines in New Caledonia, and the SNNC Plant, which processes this ore into ferronickels in its plant in Gwangyang (South Korea).
A constrained and tough economic landscape
Since 2020, the New Caledonian plant in Korea has been facing economic difficulties, due first to the COVID pandemic health crisis, then, secondly, to the climate events.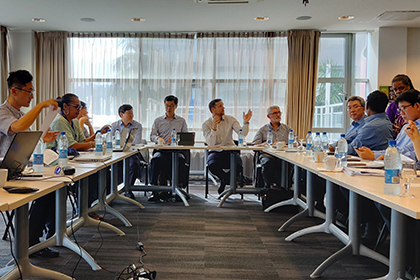 La Nina phenomenon has had a major impact on mining production, leading to a gradual reduction in annual ore supply of around 30% between 2020 and 2022. In addition, at the end of 2022, Hinnamnor Typhoon caused unprecedented damage to the blast furnaces in Pohang, SNNC's main buyer of ferronickel.
The massive supply of NPI (Nickel Pig Iron, a low-nickel ferronickel) to the world market has had a serious downward impact on ferronickel selling prices. And Indonesia's continuous protectionist policy towards its mining resources is driving prices down, with significant consequences for all nickel suppliers.
Finally, since the war in Ukraine, energy costs (coal and diesel) have soared, leading to a significant increase in operating costs.
The switch to matte production at SNNC
All the above factors have an impact on SNNC's financial performance, so it was with anticipation and to remain competitive that SNNC began its entry into the electric vehicle battery market in 2021.  On 9 July 2021, SMSP signed an agreement with POSCO to diversify production at the Gwangyang plant into matte.
Producing matte, an intermediate product used in the production of electric vehicle batteries.
The market for electric cars is growing at an exponential rate, and currently accounts for 2.5% of global sales, giving a total of 4.4 million vehicles sold worldwide (2021 figures). Forecasts predict 26 million vehicles by 2030.
Worldwide fleet of electric cars
With 4.4 million sales in 2022 (up 60% in one year), China leads the world market. Europe is in second place, with a 21% share of the EV sales market, followed by the United States, which is accelerating its sales by 55% since 2021 (the 700% electric car is up 70%).
By 2024, SNNC will be producing 26,000 tonnes of ferronickel and 21,000 tonnes of matte. Thus with the same volume of ore supply, SNNC will produce two types of product – ferronickel and matte.
Diversification is therefore not only essential to strengthening the plant's competitiveness, but by accessing the electric car market, the SMSP group, through its SNNC subsidiary, is positioning itself to reduce CO2 emissions, which is a major concern for our group.
In addition, this development model aims to position itself on markets that provide real added value for the plant, but also for the region. After 13 years of SNNC operation, the New Caledonian Plant in South Korea has proved its capabilities, producing 430,000 tonnes of nickel metal and generating a cumulative dividend of 11 billion XPF distributed and paid to SMSP.