The maintenance of production tools such as the inland waterway is a strategic activity e.i. a source of these tools' optimization and even a profit factor. At Cotransmine we have gone from curative maintenance to preventive maintenance. Companies like Cotransmine can't neglect this aspect of the maintenance activity whose economic stakes are high (investment planning). Periodic and annual revisions are planned for tugs and barges including : mechanics, boiler-making, sandblasting operations and anti-corrosion painting in order to meet the requirements of Maritime Affairs and Bureau Veritas for the issuance of security documents and permits navigation.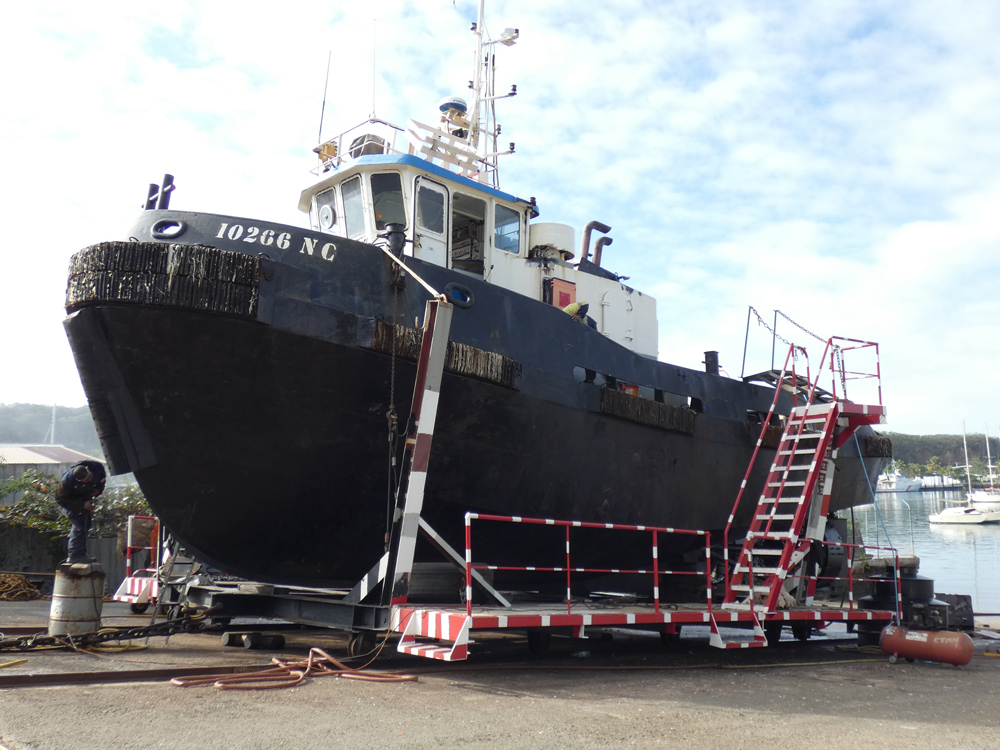 Cotransmine organized on January 15, at the Téoudié site at Ouaco, an awareness campaign on "the conditions of: use, application and safety of paints & solvents". This educational and informative animation was performed by Morgan BALLOT of Speed ​​Marine Company. It meets a business need to master the use of paint, blends and dosages to optimize costs and working time.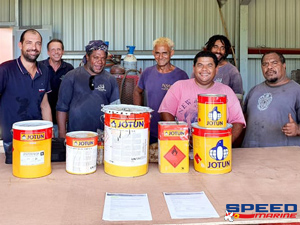 Far from the aesthetic aim, the painting of barges and tugs aims primarily to protect them from marine aggressions, ultraviolet rays and to preserve them over the long term from corrosion.
These regular operations are essential and are part of the conventional maintenance planning for all of the Cotransmine loading sites.
Three themes were discussed during this day: preparation of surfaces and working environment; application techniques and mixtures; security and storage.
Surface preparation
The pre-painting step is cleaning, as far as possible, of any corrosion of the barges and tugs' surface (or hull).
Painting is a chronological and scheduled activity. Indeed, temperature and humidity must be taken into account before any process. If temperature or humidity are too high, the paint may not dry or crack.
Thus, according to the season and the weather, it is essential to plan the daily painting activities, in particular for the application of several layers with a sufficient interval.
Application techniques, mixtures and types of paint
In order to know, among other things, dosages to be applied, the type of diluent and the drying time, it is necessary to refer to each product's label. The technical data sheet also gives indications relating to safety and ecological safety standards. This essential information facilitates use and limit losses and risks associated with the product.
The last step is cleaning the tools. The tools should be cleaned immediately after use, with cellulose thinner, acetone or even thinner, but never with water.
Security and storage
The use of all paints requires appropriate personal protective equipment (PPE). Thus, any employee carrying out a painting activity must wear at least appropriate gloves and safety glasses.
Due to the possible vapors, it is advisable to work in a ventilated environment, which is generally the case. However, for painting tug cabins, it is recommended to wear a mask with cartridges.
Finally, the paint must be stored in a sheltered, ventilated place with retention basins. In order to avoid confusion, store the paints with each other.