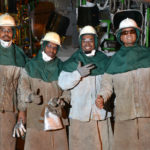 KNS has successfully processed this day Saturday, February 8, 2014 at 5:30 pm the first nickel tapping of the second production line of its metallurgical plant. With five days ahead of the schedule set, this milestone crowns the commissioning phase of the second production line.
All facilities of the metallurgical plant have now successfully passed all tests.
Peter Hancock, KNS President says:
"A success for Koniambo Nickel that confirms by this milestone, the reliability of the process, and thus addresses in 2014 under the sign of confidence for its ramp up.
Behind every success, every new step, there are men and women who have invested and earned skills. I congratulate them all to make Koniambo Nickel a shared success."